With more than one in 10 homeowners having 'no idea' whether their garden is geared up for biodiversity, and 62 per cent of homeowners wishing they had discovered more about nature and wildlife as a child, learning how to create a friendly outdoor space for local wildlife has never been more important to nurture a passion among a younger generation.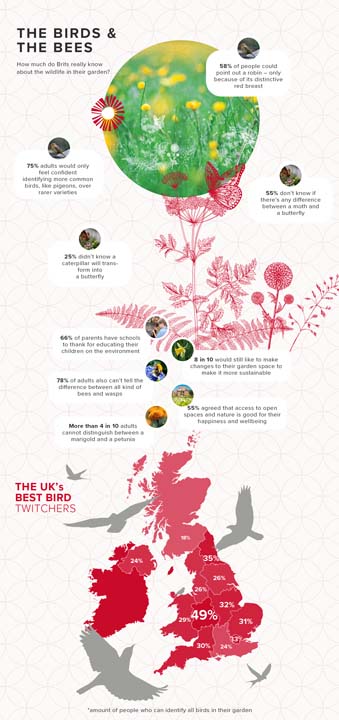 Here are five acts of wildness you can do to transform your garden into a nature sanctuary that is buzzing with wildlife.
1. BUILD A BUG HOTEL
To attract smaller wildlife to your garden, make use of old unused materials to build a bug hotel. Insect's love making a home in a safe hiding spot and thrive when living among natural materials such as leaves or rotting wood. By creating a bug hotel out of recycled materials or garden waste, your garden can remain clean and tidy while providing a safe haven for bumblebees, woodlice or ladybirds. These small insects will have a big impact on your garden by helping to pollinate plants and eating any bugs or fungus that may otherwise cause damage.
2. SAY NO TO THE MOW
One of the easiest ways to attract wildlife into your garden is to encourage wildflowers to grow by cutting back on how often you mow your lawn. Adopting a two-cut approach to your lawn by mowing in the autumn and spring will create a meadow effect that will immediately attract neighbouring wildlife. For those less daring, choose a suitable patch of lawn in your garden to turn into a meadow and plant wildflower seeds after adding fresh soil. Depending on the seeds you use, will depend on which wildlife you attract – a mixed seed is guaranteed to attract a host of new neighbours!
3. CREATE A HEDGEHOG HIGHWAY
In just one night, the average hedgehog travels almost a mile and a half in search of food and a safe place to sleep. Fences and garden walls can make it hard for a hedgehog to visit new places. If your neighbours agree, making small holes under garden fences or in walls will allow easy access points for hedgehogs to get around – and if you make a larger bug hotel, they may even become a full-time resident too.
4. FEED THE BIRDS
For new-build developments where trees have not had time to fully grow, bird feeders provide a quick and easy way to welcome birds into your outdoor space. Feeders come in all shapes and sizes and are best placed in a sheltered spot that is hard to reach for cats or pests. Hanging on the edge of a shed or garage will provide an ideal viewing point to watch your flying visitors, while larger birdboxes may be better suited to hedgerows or trees.
5. MAKE A COMPOST BOX
Instead of sending your garden waste to landfill, recycle your waste to create your own compost. Not only will this help reduce the amount of waste sent to landfill each year, but your home-grown compost will create a community of minibeasts and insects who live among the waste and help with the decaying process. These smaller creatures will increase the organic content in your soil and provide a delicious food source for hedgehogs and larger visitors to your garden.
Find out more about our commitment to sustainability and how we're protecting and enhancing biodiversity here.