Our latest research has shown that existing homeowners and first-time buyers are in the dark when it comes to the benefits of a new-build home over that of retrofitting an older property to modern energy-efficiency standards.
Nearly a third of our respondents (30%) suggested buying new would be kinder on the pocket in the long run – compared to just 19% who thought converting older homes would be a cheaper alternative – almost half of those polled (49%) were unaware of the Government's sustainability and environmental targets, with either no idea about the objectives or no concept of how it would impact them as homeowners.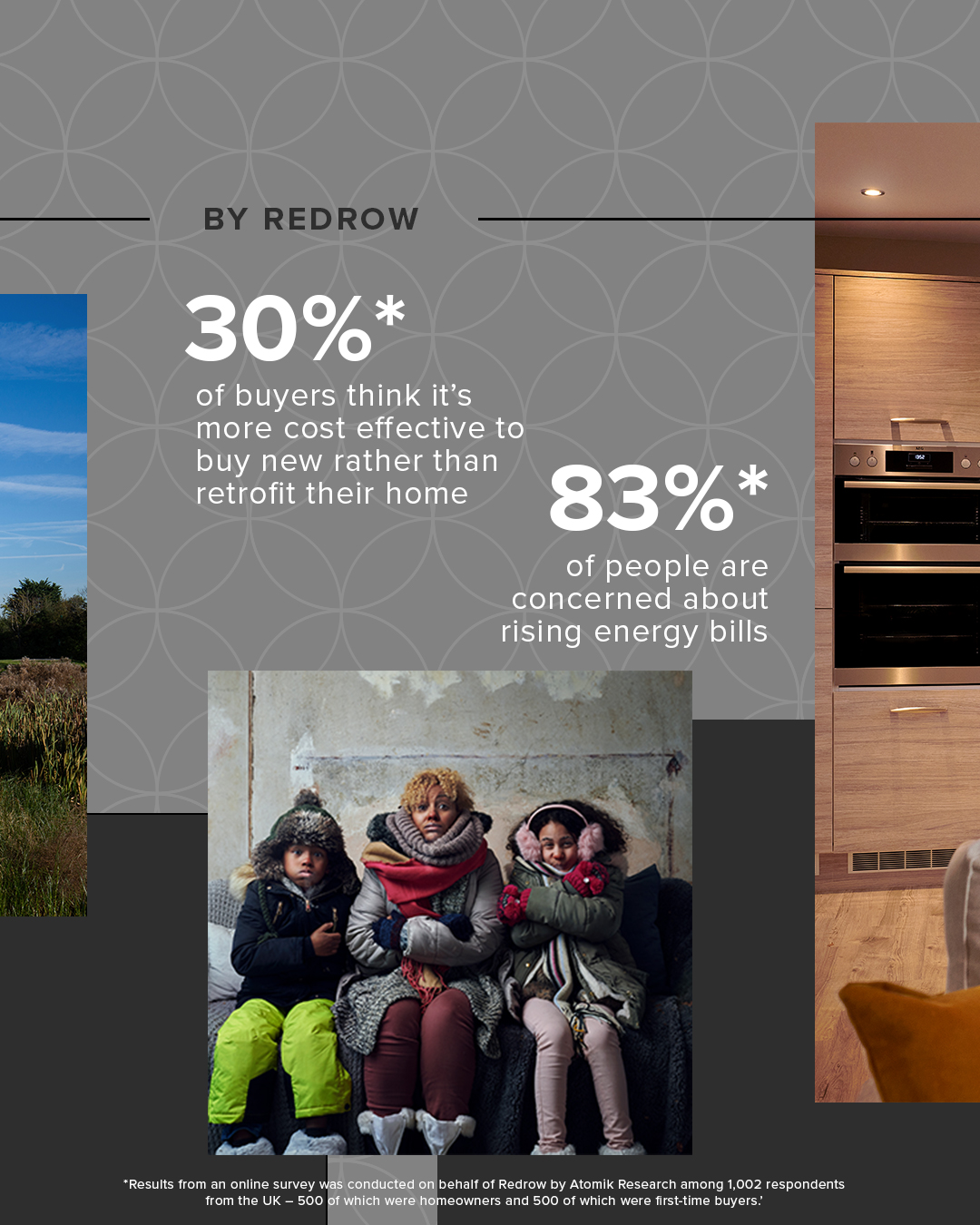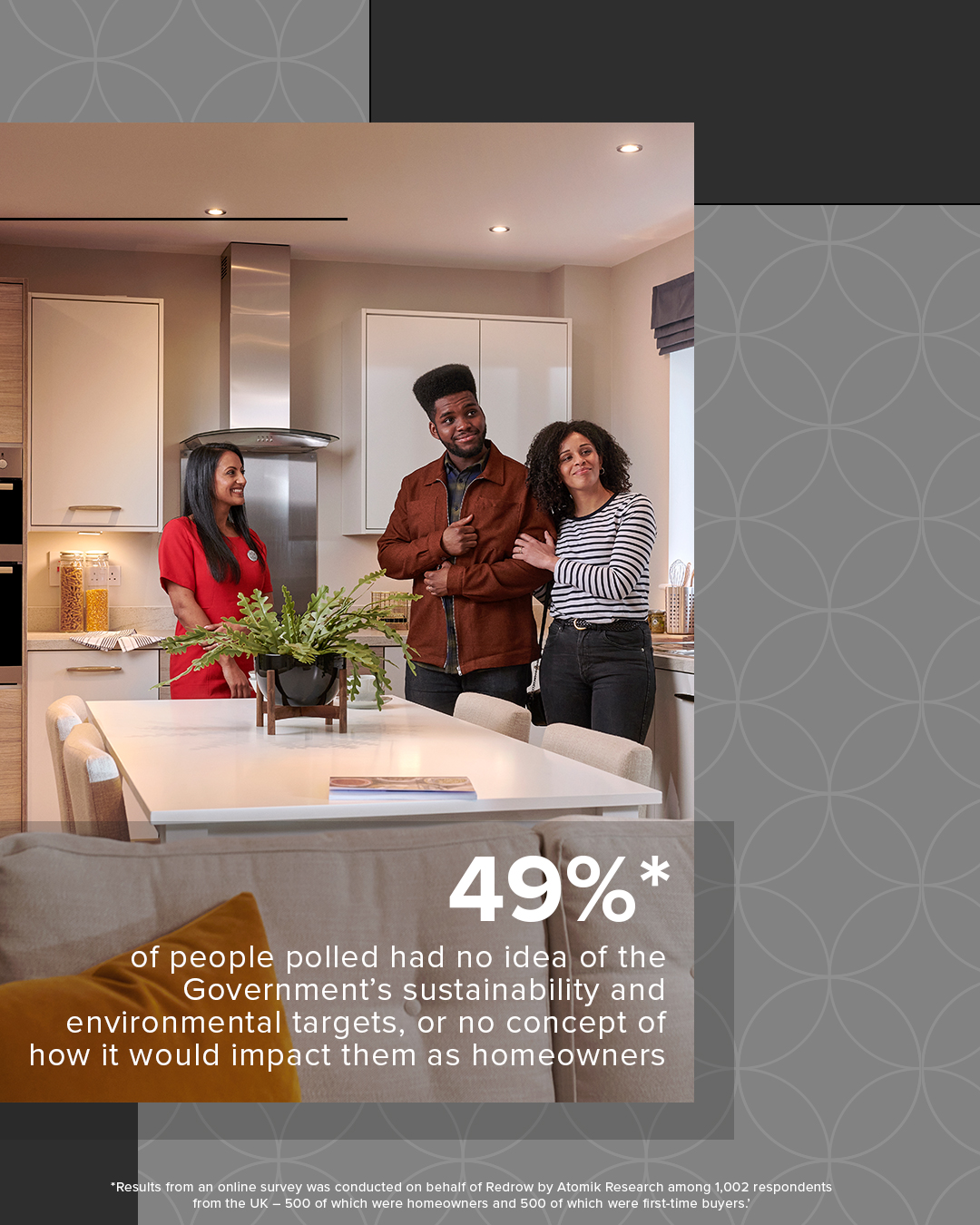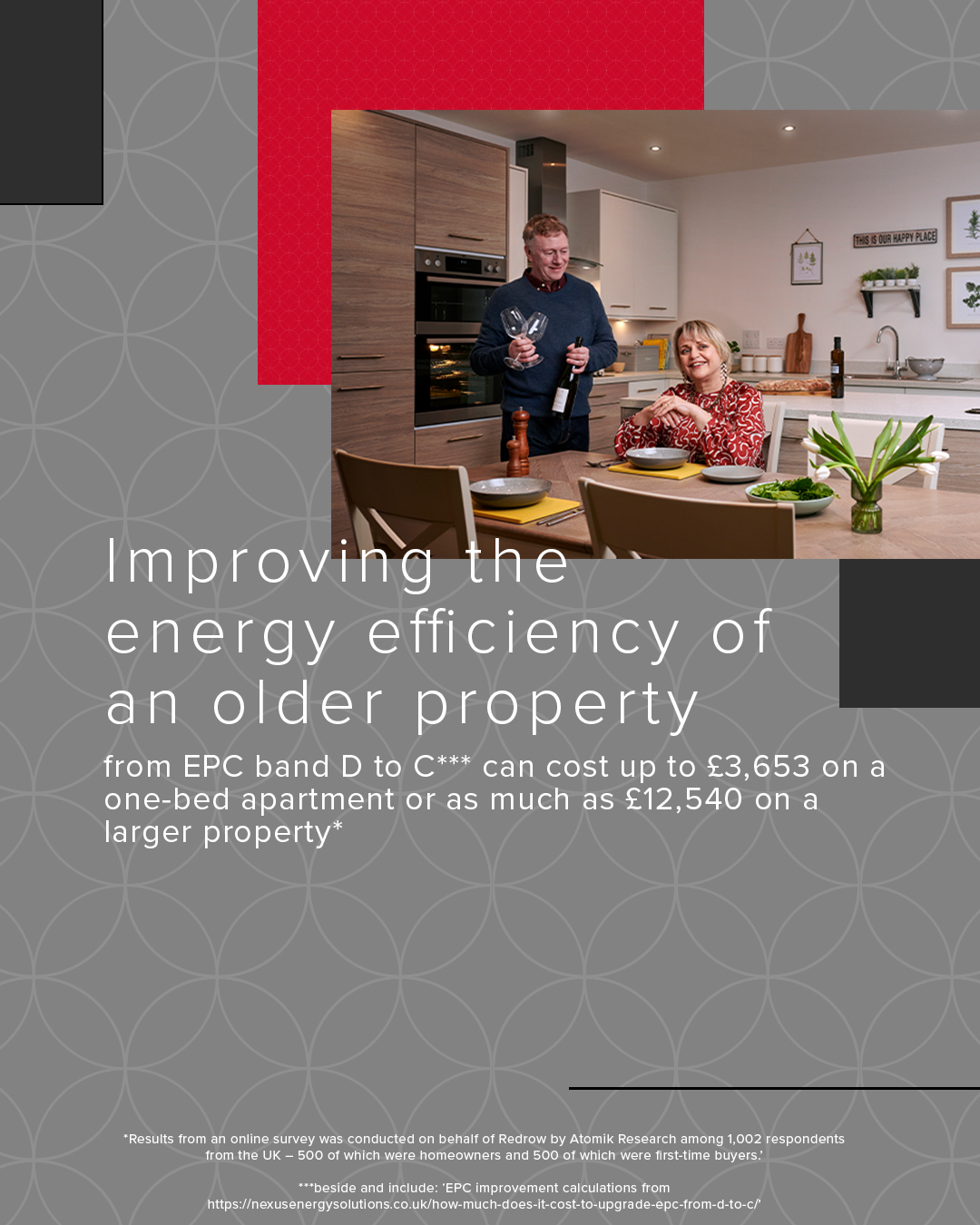 We've broken down what it means to buy new vs retrofitting an older property:
1. SAVINGS ON BILLS
We commissioned a sustainability consultant to conduct a technical comparison between the expected EPC results of a traditional house built in the 1930s (and subsequently renovated) and a Redrow home. The results were clear; our homes are considerably more cost efficient with running costs of £597, less than half of that of an older property which saw costs of £1,407. This disparity was based on the use of gas, with the ban of gas boilers one of the Government initiatives to cut emissions from households.


2. NO EPC UPGRADE REQUIRED
The energy efficiency of houses in the UK is ranked on a scale of A – G, with A being the most efficient and G the least. It is possible to upgrade your home by retrofitting, but our research showed that improving the energy efficiency of an older property from EPC band D to C can cost up to £3,653 on a one-bed apartment or as much as £12,540 on a larger property*.
While this sounds like a sound investment in the future, this isn't an investment that will hit your pocket with great immediacy, with various estimates placing the timeframe of return on investment at around 20 years**.
The government has published an action plan to try and move as many homes as possible to band C by 2035***, however, almost all of our homes are already classified as band B as standard. Newer homes come with many energy-efficient amenities built in – such as proper insulation and double-glazed windows – and are also covered by a 10-year warranty from the National House Building Council.
3. A HEFTY PRICE TO GO GREEN
Air source heat pumps have dominated the conversation when it comes to changes Brits can make to their homes to help make them more energy efficient. Despite the chatter, three-quarters of respondents to the survey were yet to make any changes to their properties with the Government's green strategy in mind, a perhaps understandable statistic given that some low-carbon alternatives such as air source heat pumps can cost up to £18,000**** to install.
4. UNAWARENESS OF FINANCIAL AID
A third of those polled were unaware of the existence of financial state support towards initiatives such as transferring from a gas boiler to a heat pump. A further quarter did not have a handle of the size of such grants, indicating that there is a clear knowledge gap for the Government to help bridge so that homeowners are more aware of their options when it comes to futureproofing their homes.
5. KNOW YOUR STUFF
Although many of us have embraced more sustainable ways of living such as recycling our waste and using energy saving lightbulbs, a third of those polled were found to have no idea how much carbon their property emits and only a fifth considered the results of the EPC an important factor when looking to buy a property.
We're committed to helping our customers understand the sustainability credentials of our properties. We focus on designing our homes with high-quality insulation, boilers and ventilation systems to ensure they are energy efficient and help reduce carbon emissions. Our SAP Rating is 84. SAP ratings are expressed on a scale of 1 to 100. The higher the number the better the energy rating. For context the UK average for all homes is 59.
See what you can do to help save money on your gas and electricity bills with our tips on how to save energy at home.
* How is an EPC Band Calculated – Nexus Energy Solutions
** Old houses take up to 20 years to recoup cost of retrofit – The Times, Nov 2021
***UK Government EPC Action Plan – GOV.UK, Sept 2020
**** Air source heat pump cost guide – Checkatrade, June 2022