Our head of interiors Alysha Alli has rounded up some of the top Christmas trends from the high street this year and provides inspiration for four different table scapes to provide a backdrop to your festive fayre.
Christmas trends to inspire your home this year
Each year trend forecaster WGSN give a rundown of the looks UK retailers will be displaying for the festive season, including Christmas living room décor ideas and trends for every other room in your home.
"Giving your Christmas décor a refresh each year can be as easy as choosing two or three key items inspired by one of the latest designer looks," says Alysha. "This year ornate and glam, woodland creatures, dried botanicals alongside handcrafted open constructions and a twist on the 'classical Christmas colours' are all leading the festive trends."
"Multi-coloured decorations in bold brights, inspire optimism for the year ahead and a celebratory atmosphere for the holidays. It's a very accessible trend for those confident in their décor choices and can be achieved by adding a mix of colourful baubles, bright candles, and rainbow stockings."
Bringing the outdoors in is another key trend for this festive season, as Alysha explains. "Woodland trends in the shape of animals, leaf forms, hand-painted acorns, and frosted snow effects are all really popular. We're seeing lots of embossing and natural motifs on baubles and wrapping paper too.
"Felted decorations to mimic natural textures create a really cosy and homely feel and can be brought in through tree and wall hangings, while reindeers are a great feature in table decorations, throws and bedlinen.
"It's also a trend that works well for staircase Christmas decorating ideas and woodland themed items work well for Christmas banister ideas. In place of traditional wreaths, wrap festoons of woodland creatures or snow-covered gold acorns around the spindles.
"Following on from this, using dried botanicals and foliage in particular for wreaths are great indoor Christmas decorations ideas and very much on-trend this year.
"Classical Christmas never goes out of fashion and for 2021 we're seeing traditional decorations, from nutcrackers to gingerbread men, and trees in traditional red, green and gold, evoking comforting nostalgia - all delivered with a modern twist."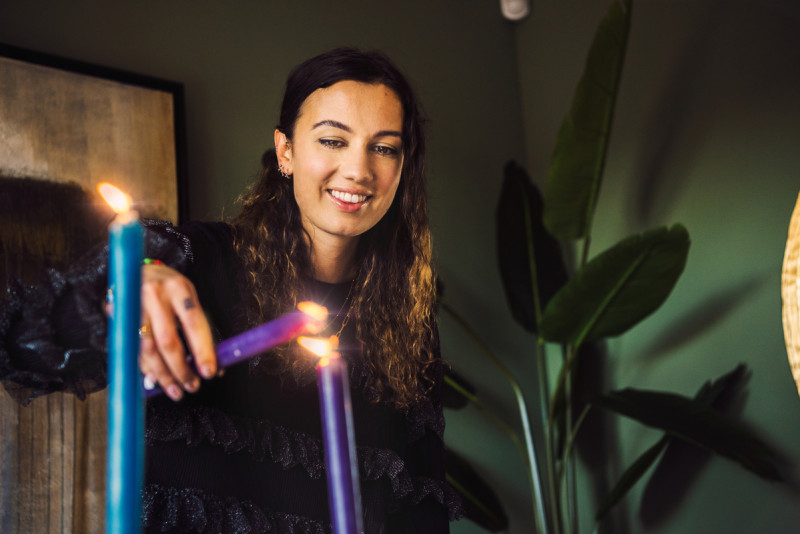 What is table scaping?
Table scaping is a term use by designers to create a beautiful, cohesive style when dressing a dining table. Alysha explains: "It involves thinking about the theme for your table scape and choosing key items that work well together and create a unified overall look. I love creating table scapes that enhance the room, while being uncomplicated; after all, a dining table is primarily a place to enjoy wonderful food and drink. By combining complementary fabrics, place settings, dinnerware, glassware, cutlery, and a just a small number of accessories, you can really wow your guests this Christmas."
So if you're curious about table scaping or how to set a table for Christmas, read on for four fabulous table scaping ideas.


Table scaping idea 1: Classical Christmas with a twist
For a modern take on classical Christmas décor, pair sumptuous fabrics like green velvet with rich comforting textures such as linens and bobbly boucle. Layering these is a great way to achieve a luxurious feel. Mix with contemporary finishes in your tableware like mineral effects, concrete and metallics explains Alysha. "I love combining the detailed, imperfect yet smooth finishes of concrete and marble with dulled metallics to create an up-to-date and understated classical look. Traditional colours like forest greens and primary reds can be used stylishly together in layered fabrics.
"You can even combine retro tartans with garlands of foliage, holly and crisp white snowflake designs to bring a sense of nostalgia."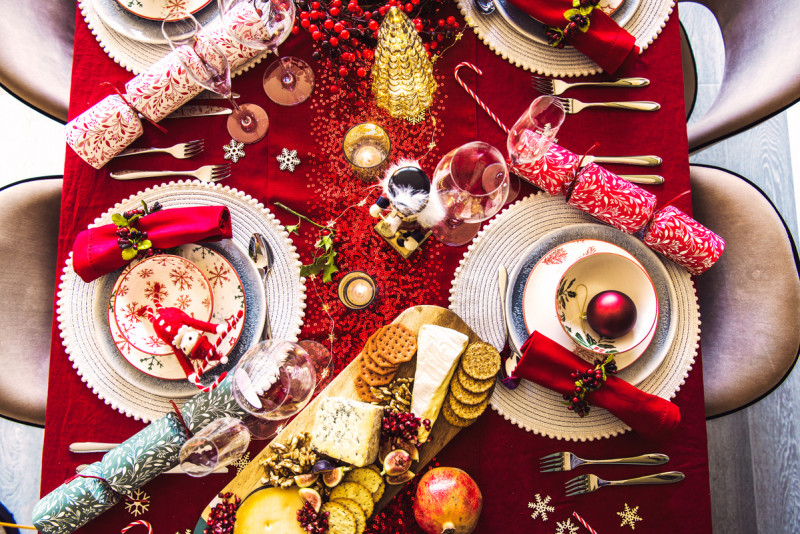 Table scaping idea 2: Dried botanicals and open construction
"While dried botanicals are featuring in wreaths and tree decorations this year, they also look wonderfully festive on your dining table," says Alysha. "Blend these with accessories with open constructions, such as interlaced woven stars and other natural fibres, to produce an organic look that is right on trend.
"Intricate handcrafted woven raffia and dried grasses look fabulous when combined with tassels and macramé, for a look with a boho edge," says Alysha. "Lightweight accessories which feature wood with laser cut patterns are also really stylish. This effect looks great in tabletop LED lighting and candle holders, as the cut-out sections allow warm light to shine through and create a cosy ambiance."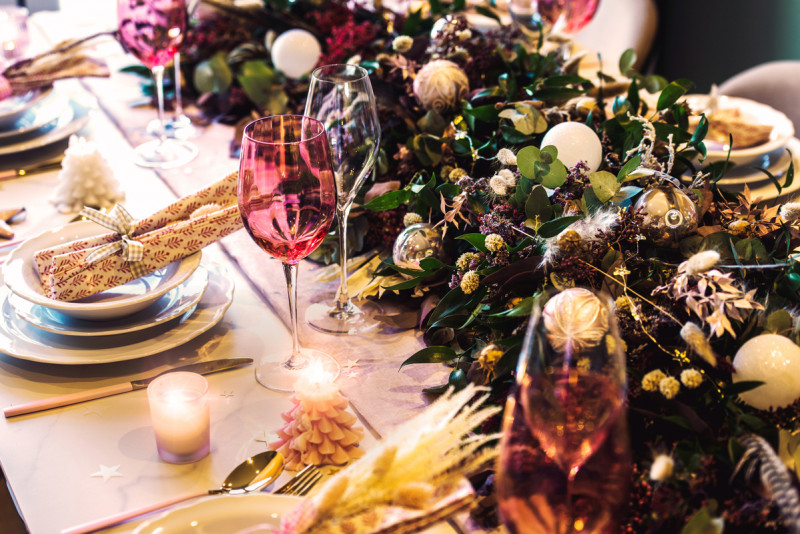 Table scaping idea 3: Glam and ornate
For those searching for a touch of grandeur or a more glamourous look, the trend for eye catching and ornate designs will be one to incorporate. "A lavish look can be created by combining detailed patterns with on-trend metallics. Repeating scallops, diamonds and geometrics look wonderfully stylish when subtly incorporated into your table settings. Ornate designs also feature in ceramics, with painted finishes providing handcrafted interest," Alysha says. "Table dressings with statement stripes really stand out from the crowd and combined with colourful accessories like nutcracker candles in a vivid array of tones, they are sure to create a celebratory mood that will leave a smile on everyone's faces. Glassware with hand painted colourful details adds the perfect finishing touch."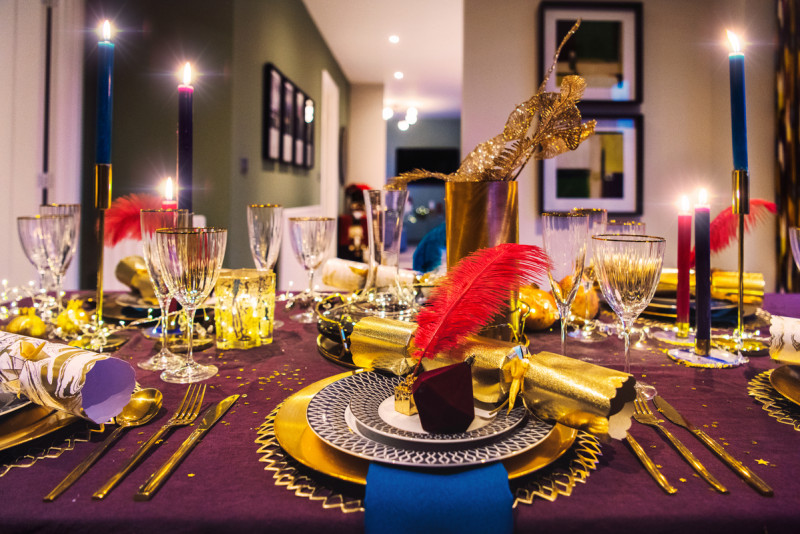 Add luxe touches of gold, silver and bronze through accessories, chains, embossing, foil or gold leaf effects to complete your next level glam look.
Create your own signature Christmas style
Christmas is a wonderful opportunity to express your personal taste through your seasonal décor as Alysha adds: "It's a real time for celebration, so why shouldn't that come through in the use of joyful and whimsical decorations that give your home a fresh look for a few weeks. It feels particularly important this year to have fun with Christmas décor, given it's been a tough 12 months for many. There are trends to suit every taste and we hope we've inspired you as to the new looks available and how to create a statement table scape to really impress your family and friends."
Competition time
We've got the ultimate Christmas competition where we have four prizes up for grabs!

Alongside the £150 M&S hamper we're giving away the above three tablescapes put together by Alysha (contents of tablescapes subject to availability).

To be in with a chance to win one of these amazing prizes head over to our social channels and tell us how you're getting into the festive spirit. Be sure to tag us in your photos with #RedrowCompetition.