Searching for your perfect home? Hear some of our recent customer reviews.
Redrow has long held a reputation for stunning design, intuitive place making and award-winning interior design. All of these allow customers to feel proud about the Redrow home they own.
Hopping onto the housing ladder.
Paul & Jamie
"We could really picture ourselves living there..." Saving for a deposit can sometimes feel unimaginable, but flexible working enabled first time buyers, Paul & Jamie, to turbo charge their savings.
Out of this world!
Jorgina & Sean

"We were keen to start with a blank canvas so that we could make our next house truly our home. It was like love at first sight. Sean was still taking his shoes off when, just ten seconds after walking through the door of the Richmond, I shouted we are buying this one!"
Happily retired.
Pauline
"I made the move from Rochdale to Barrow to be closer to my family...People talk about "the feeling" when they view a house and I definitely got that from The Pine. I loved every part of the property, but it was the size and layout of the kitchen/diner which really won me over. Plus, the good size garden area. I enjoy gardening so that was also another tick in the box..."
Proudly awarded five star customer satisfaction from the House Building Federation in an independent survey 2023.
If you're someone who needs quality confirming, look no further. In 2023, we achieved the highest quality stamp in the industry. Based on only actual customer feedback surveys, we achieved a five star customer satisfaction rating.
Third time's a charm.
Beth
Her first Redrow was an apartment, her second was next to her sister's, and in the words of Goldilocks, the third was 'just right' – Beth had found her forever home in Derby. "After living in two different Redrow properties, I knew I couldn't purchase from any other housebuilder."
All roads lead to home.
Brian & family
"Travelling up and down the motorways had worn thin, and each 258-mile journey reminded us of the distance between us and those closest to our hearts...We decided enough was enough, and despite the beautiful setting we lived in, we were ready to swap the vistas of the Lake District for the equally beautiful Mendip hills and have our nearest and dearest just around the corner."
A suprise proposal.
James & Becky
"We'd stepped inside what we hope to be our forever home for the very first time, and were so excited...Then James got down on one knee on the path outside and asked me to marry him! It was a shock, but of course I said yes!"
A 6,000-mile move.
Kenneth & Charis
"I believe moving to this country was the best move for my daughters as I hugely admire the UK's educational system and my daughters can now study under a less stressful environment...I studied different developers and locations. Eventually I chose Redrow because of the stylish house design, good reputation and lovely environment of Newton Garden Village."
The perfect home.
Adele & David

"When we moved back to the UK, we knew we wanted to buy a Redrow home. It was the quality of the homes and high ceilings that we loved the most. The home is perfect for our rescue dog who we brought back from Australia with us and is also great when our children and grandchildren come to stay. It's everyone's dream to own a home like this one."
Work-life balance.
Jordana & Ben

"With juggling two businesses and becoming parents, it became clear that we needed more space to balance our work and family lives. It was the driving factor behind moving home and opting to purchase a three-bedroom home at Maple Walk."
Want to start your Redrow story? Find your perfect home today.
It can only be Redrow.
Redrow have long had a reputation for quality and attention to detail. Nowhere is that more apparent than the Heritage Collection. Explore the history and inspiration behind the award winning collection below. Alternatively, discover what comes as standard in Redrow homes or learn more about Help to Sell the quick and easy way to sell, save and move.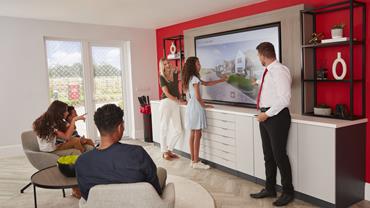 HELP TO SELL
Sell, save and move with Help to Sell
A beautiful new home and an assisted move from a company you can trust. Help to Sell helps you to have a quick and easy move.  
FIND OUT MORE
IT CAN ONLY BE REDROW
High quality comes as standard when you choose Redrow
Everything we do is based around quality. When you experience one of our homes, you know, it can only be Redrow.
Find out more